Harcum College Case Study
Projects
Harcum College Case Study
Student Success Center: Welcoming and Engaging Students for Success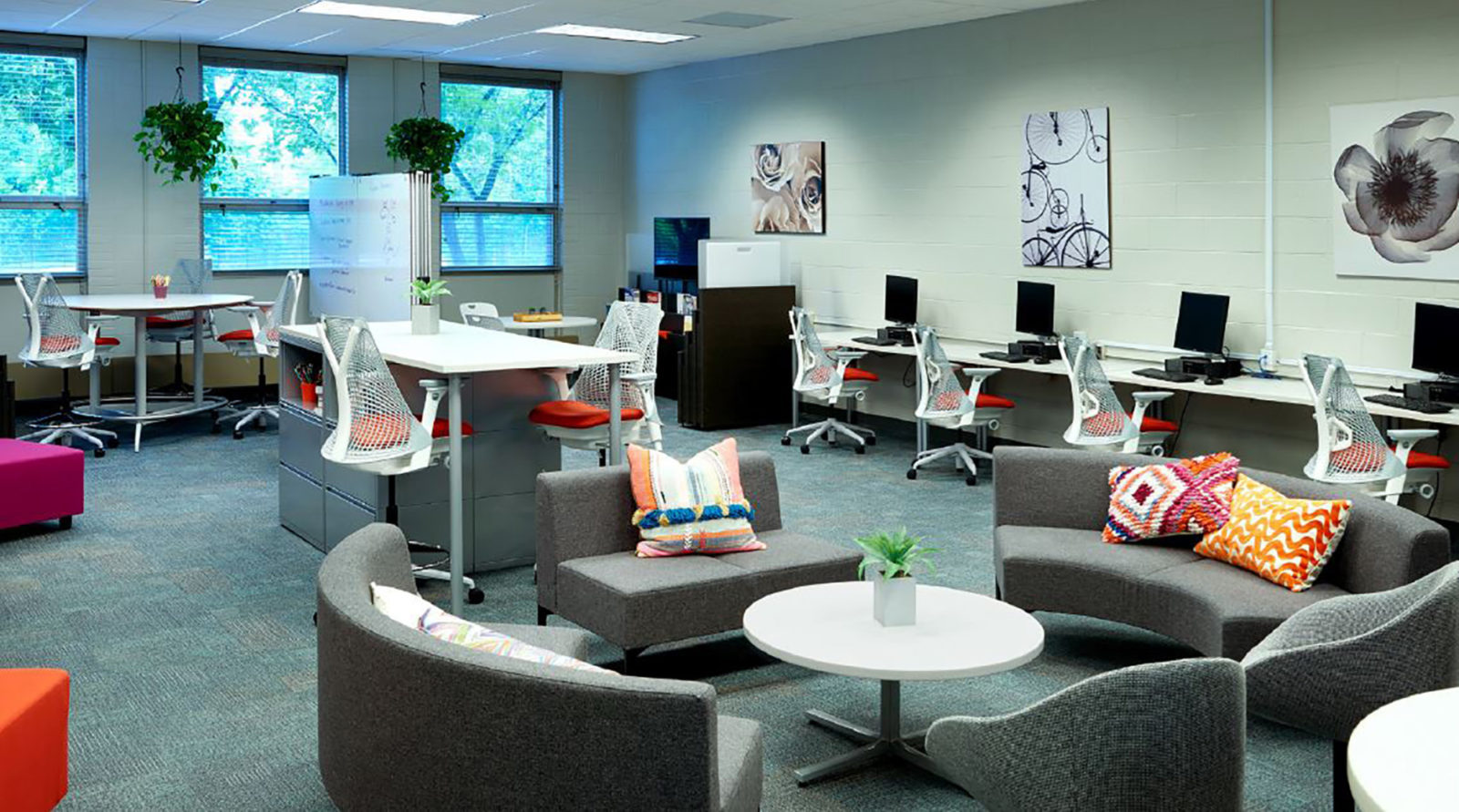 Recognized as a trusted educational furniture manufacturer and supplier, Herman Miller works closely with university leaders to design functional and innovative learning spaces that support the needs of college students. Harcum College is a private, nonprofit, two-year residential college, located in Bryn Mawr, Pennsylvania, not far from Philadelphia. The school offers associate degrees in arts and sciences, with a focus on allied health sciences, business, and design. Harcum College wanted to transform their existing Student Success Center (SSC) into a multi-disciplinary, cross-functional learning space that supported student engagement outside of the classroom environment. Together, Harcum College and the Herman Miller education design team selected workstation furniture that was both professional and comfortable, creating a student-focused space that inspired a sense of community and belonging for their diverse student body.
Workstation Furniture for a Diverse Student Body
When Harcum administrators began talking about a new center and its importance to student success, they were clear that the new center couldn't be intimidating or only associated with remediation. It needed to be approachable and encouraging. Harcum College attracts the traditional high school graduate as well as many drawn to Harcum's strong athletics program. The school is a NJCAA Division I school that attracts athletes from around the world.

"Because Harcum has such a diverse group of programs, we attract a diverse student body," says Heidi Techner, Program Director for Interior Design and Facilities Planner. "We have a large number of degreed undergraduate students coming to us as an alternative to graduate school, seeking a new career path. They're in their mid-20s, all the way to their 60s."

Before Harcum's partnership with the Herman Miller education team began, the existing Student Success Center was described as sparse and underused. Administrators felt it sent the wrong message to the students coming for tutoring and other academic support. "It was not a place where students wanted to hang out," says Emily Fahy, Director of Student Support Services (SSS). But the need for its services was ever-present. "We also have a diversity in academic preparedness," continues Techner. education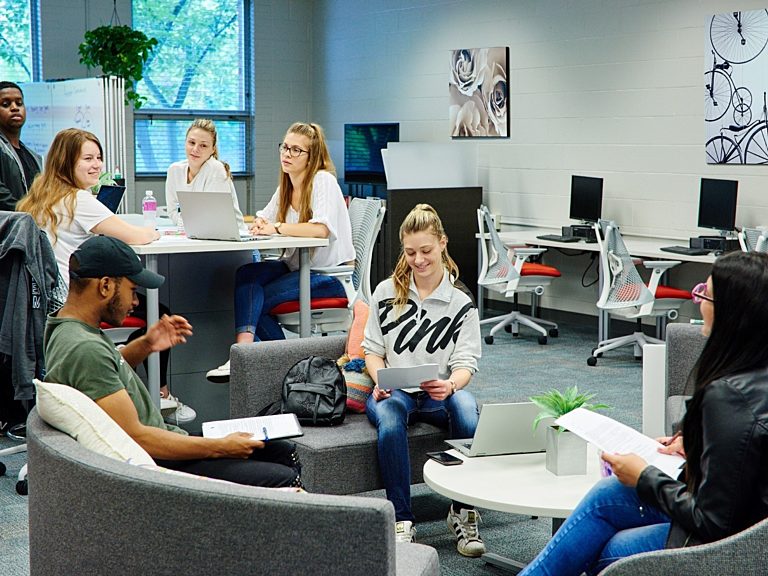 Community & Belonging in Educational Spaces
"We have some students coming to college without a solid understanding of how to study or manage time and older students who have been out of the academic setting for many years," says Techner. In addition, the grant-supported Student Support Services (SSS) program works specifically with first-generation and low-income students as well as students with disabilities. "Many of these students come to Harcum looking for more support in order to succeed at the college level, and the center meets a range of their needs," says Fahy. "We help with financial aid, with managing student life, sometimes more personal things. First-generation students often need more support because college life is unfamiliar. It is really important that the SSC not be intimidating, important that these students feel comfortable. We're trying to build a community of learners."
The Harcum and Herman Miller teams set about to design a new SSC that would "create a sense of community and belonging," says Techner. "We wanted to develop a place that was inspiring and would draw students in and make them feel like part of a community. Make everyone in the space—staff and students—inspired."
Working with Harcum College offered an opportunity for the Herman Miller education team as well. The team typically partners with schools to research and design formal learning spaces. "SSC gave us the chance to explore a different type of place," says Strategic Account Manager Tanara Hansen. "The purpose and use of the SSC reaches so many students," continues Hansen. "It is multi- disciplinary, cross-functional, and serves students in a different way than a classroom environment does. This was a student-focused space where we could explore student engagement. Schools want to equip their students will all kinds of tools to prepare them for success in the world, and engagement is a key ingredient. Herman Miller believes the physical environment plays a role in engagement and success."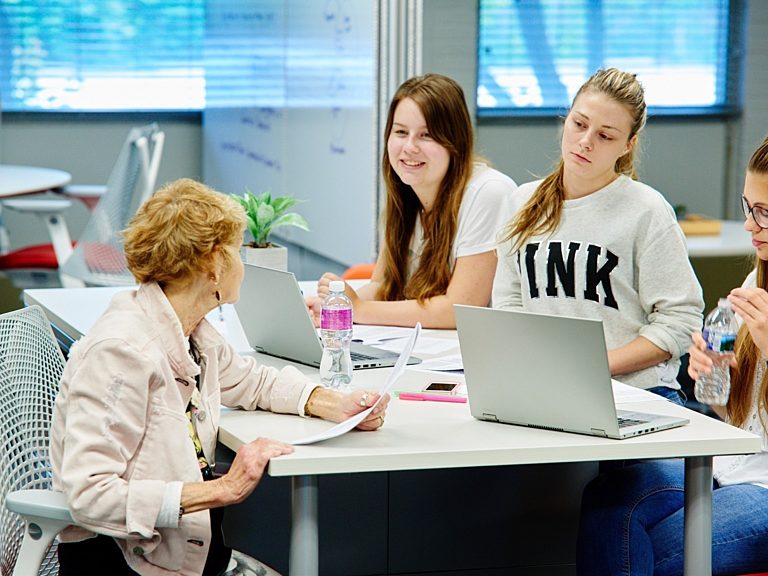 Selecting the Right Furniture for Educational Settings
Harcum College's new Student Success Center (SSC) is an inviting, pleasant space. Natural light, organic shapes, warm neutrals, and pops of color create a vibrancy that attracts students and staff. The workspace design, which offers a range of settings and higher education furniture, addresses the variety of activities happening within the center. The educational furniture selected for the space allows for a mix of multiple desks and seating options for one-on-one tutoring, collaborative space for groups of three to five, and privacy walls to divide larger workspaces. Herman Miller's full line includes these great options:
"This space is homey. Other spaces are 'OK, gotta hurry and get this done.' But here I can take my time and actually relax," says one student. A number of comments from tutors add further proof that the administration's vision for the new center is being realized. One tutor refers to the center as a "destination like the library….I don't have to remind students where the space is located; they just know."
The choice of modular office furniture for the SSC, most of which can be easily moved and rearranged, was purposeful. "We encourage students and staff to move furniture around," says Hansen, "whether it is a classroom or the SSC. They need to know that that is part of the design and that they have permission to change things. Fahy commented that the staff encourages students and tutors to rearrange furniture. "There are so many different options, and the students have choices," says a tutor. "I have to do less work to make students more comfortable in this space." "Now the biggest challenge in the SSC is deciding where to sit," says Techner.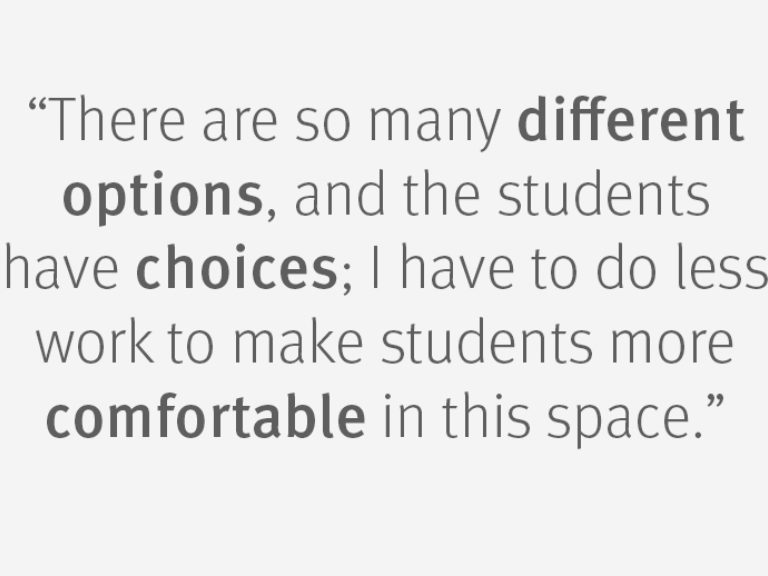 Connect More with Height-Adjustable Furniture
The center is also inspiring the staff, who enjoy the improved aesthetic and functionality of the new space. "The height-adjustable surface in my office works well when I'm with a student," says Fahy. "It creates a more natural and collaborative way to work together." The new center also makes coming to work more enjoyable, adds Fahy. Harcum's Student Success Center also features two private offices, one shared office with a height- adjustable tables and chairs, and an enclosed break room that doubles as a meeting room or space for private conversations. For these collaborative workspaces, Herman Miller and Harcum selected functional products from the best educational furniture manufacturers.
If use of and activity within the new center is any indication of its success as a place of community, inspiration, and engagement, then the center has met its goals. Students now come to the center for more than tutoring: They come to work, relax between classes, and meet with other students. "They stick around after their tutoring sessions," says Fahy. "The space provides more opportunities for people to connect."
"The new center is a great example of what happens when people look at space design holistically," says Hansen. Having been part of the planning team, Techner feels satisfied with the results. "This is a great space to be in," she says. "It's collaborative, warm, and friendly. It has a good sense of light, materials, colors, and shapes. I'd love to add spaces like this throughout the college. It's a benefit for both the staff and students."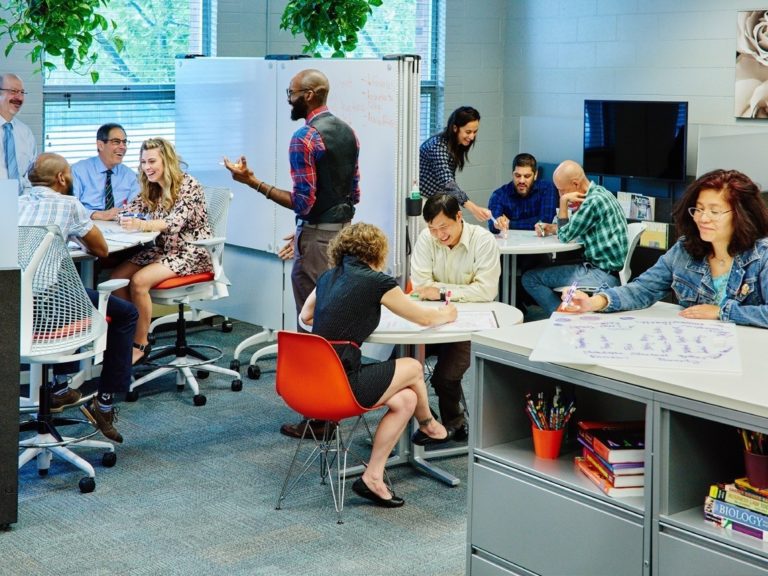 Premier provides a wide range of services in workspace planning and design, project management, and delivery and installation. Partner with Premier to design and create educational workspaces that will meet all your goals and help your students reach Success by Design!